News
The exhibitors of the 37th Milano Unica
Textile and accessories companies, July 2023
Only for the upcoming edition, Milano Unica will occupy Halls 1-3 and 2-4, welcoming visitors at two reception areas easily accessible from the East Gate (Porta Est) of Rho Fieramilano, the closest to the underground metro station.
The new look that, from this season on will grace all of the booths, freshened by a material that imitates the texture of fabric, awaits you as you discover the offerings of the companies participating in the trade show of textiles and fashion accessories.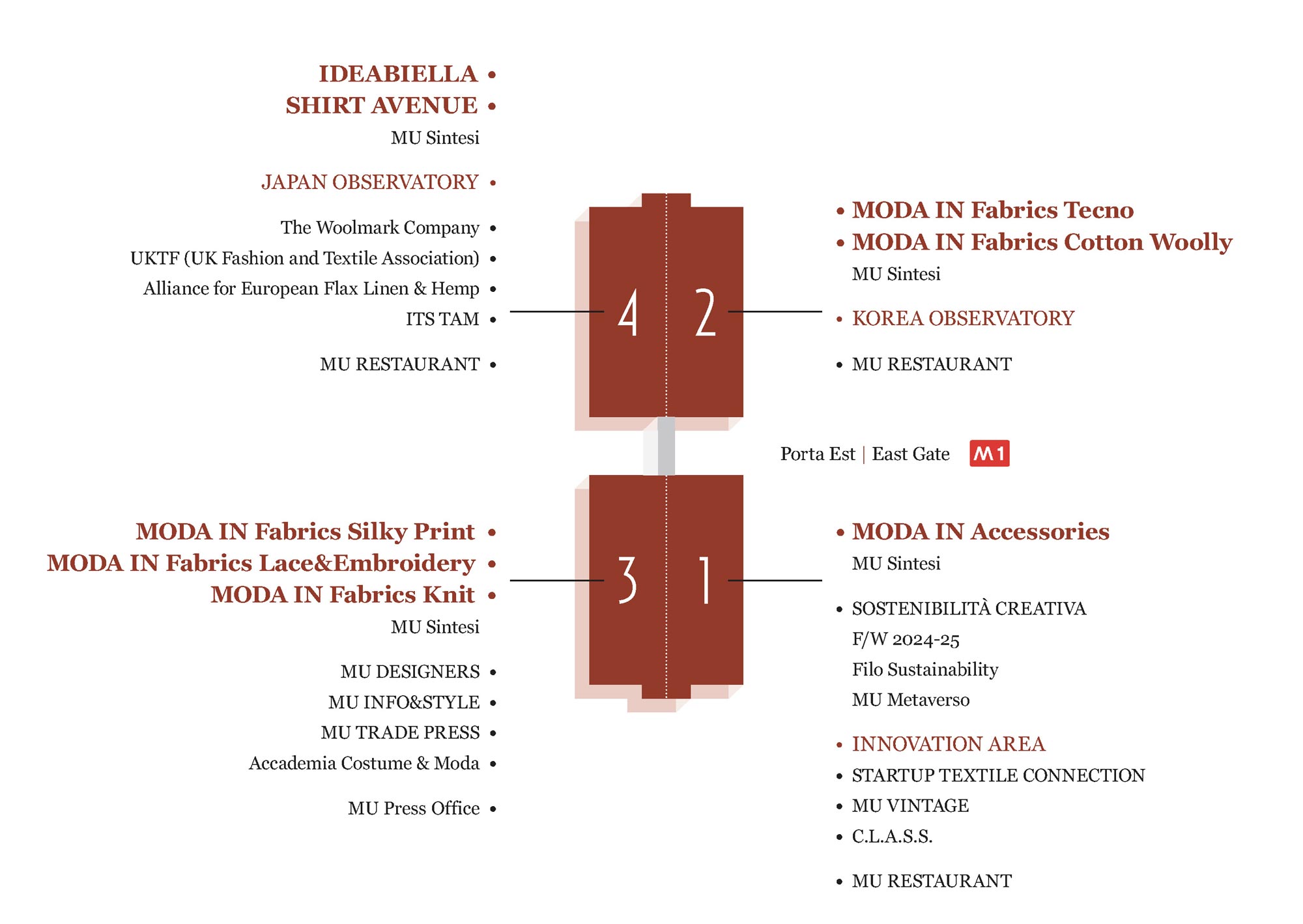 Hall 1 welcomes visitors with paths dedicated to:
Sustainable Creativity, with an important new twist: all the creative concepts for the upcoming Fall/Winter 2024-25 season will be dedicated only to sustainable samples.
Modain Accessories, a vast proposal of fashion accessories.
Innovation Area organized by TexClubTec, the Technical Textiles section of SMI, Innovation Area, focuses on the latest trends in innovation that are transforming fashion and the production chain.
StartUp Textile Connection, with the most interesting research projects: from the search for new raw materials to the digitalization of production processes, from aspects of circular economy and sustainability to quality control.
MU Vintage, including a selection of 4 exhibitors. Vintage does not only mean archive researching but also plays a role in terms of sustainability as it gives new life to apparel items and accessories.
In Hall 3 you can visit:
The companies of Modain Fabrics and their proposals, including Silky Print, Lace & Embroidery and Knit
The areas dedicated to MU Designers, MU Info&Style, MU Trade Press and Accademia Costume & Moda
Hall 2 will be dedicated to:
Modain Fabrics, in the Tecno and Cotton Woolly categories.
The Korea Observatory, with a wide range of products, from high-performance technical fabrics for outerwear, outdoor gear, suits and so on. The quality of Korean textiles is guaranteed by extensive research and development on the latest fibers and raw materials.
In Hall 4 you will find:
Ideabiella, with the most beautiful creations for high-end menswear and a constantly increasing number of sophisticated proposals for womenswear
Shirt Avenue, with a selection of exhibitors presenting the most refined shirting for women and men
The Japan Observatory, featuring an ample range of high-end textiles resulting from an unprecedented innovation blended with an ancient artisanal spirit
Every Hall will have its own MU Sintesi area, offering visitors an overview of the best textiles and accessories from each exhibitor.
We look forward to seeing you at Milano Unica on July 11, 12 and 13