Editorials
Who's Who exhibitors: Moda In Fabrics
MU32: Moda In Fabrics companies participating in e-MilanoUnica Connect
Milano Unica is honored to present the Moda In Fabrics companies participating in e-MilanoUnica Connect​​​​​​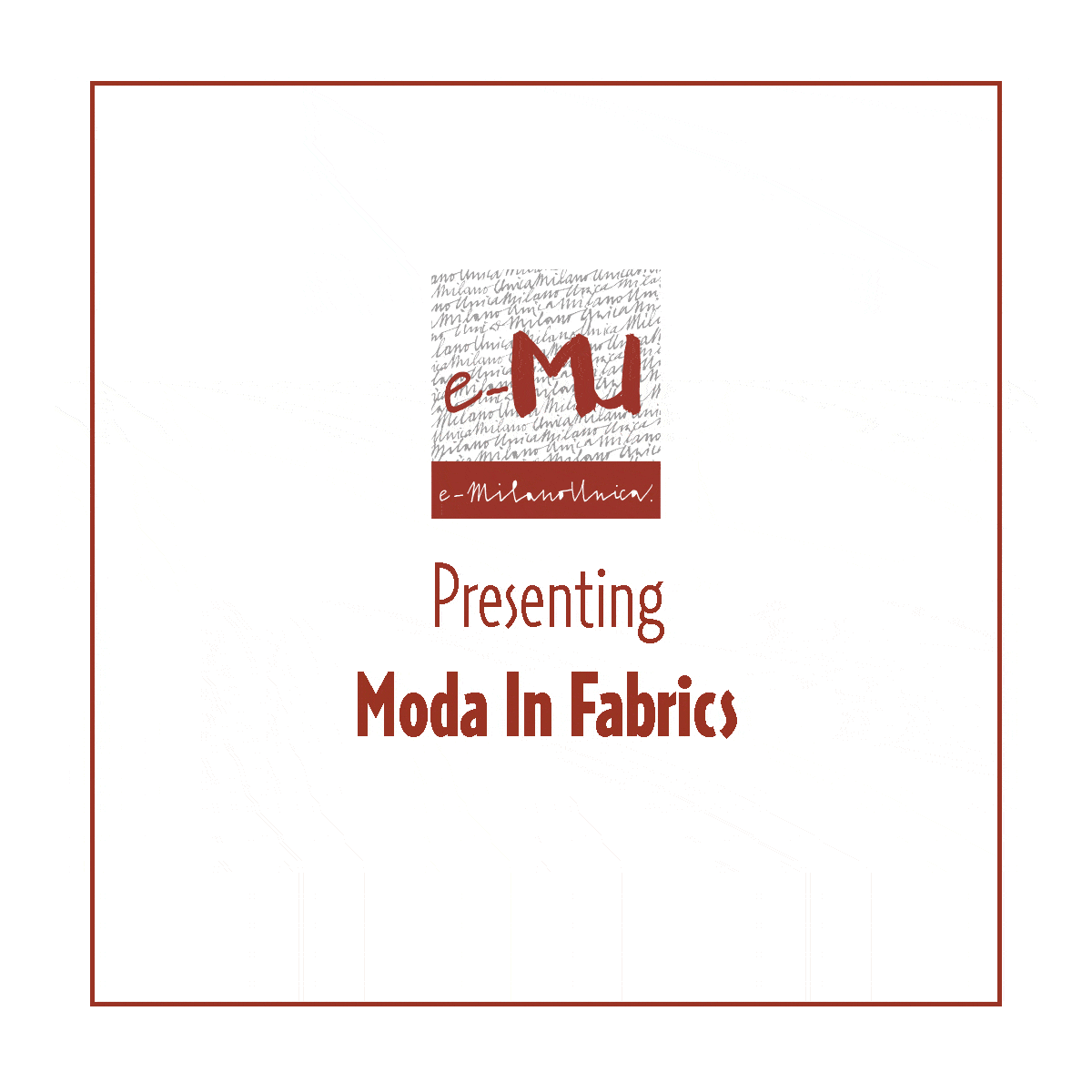 Milano Unica thanks:
3C COMPANY SRL
A.GRATACOS.SAU
ALBANO MORGADO, S.A.
ANGELO VASINO SPA
ANTICA VALSERCHIO
BEDINI F.LLI SRL
BESANI SRL
BORGOTEXTILE - CASDITGROUP
BRECOTESSILE
BRUGNOLI
C. PAULI GMBH
CANEPA SPA
CARLO POZZI
CAVALLERI E C. SAS
CLERICI TESSUTO & C. SPA DIVISIONE INDUSTRY
COLOMBO INDUSTRIE TESSILI SRL
DELFI SRL
DIVERCHILDREN,S.L.
DRAGONI SPA
DUTEL SAS
E-STYLE
ECOPEL FAUX FUR
ERCO PIZZI SRL
ESTETHIA G.B. CONTE
ETON TEXTILE SPA
EUROJERSEY SPA
FADA TESSUTI
FANTASIE TRICOT SRL
FRIZZA SRL
GI. TESSIL FODERAMI SRL
GRUPPO TESSILE IMPARATO SPA
IFANSI DOUMAS BROS SA
ILUNA GROUP SRL
IMPRESA TESSILE SRL
INTESA C SRL
IOAKIMIDIS TEXTILES
IPET RIFINIZIONE SAN GIOVANNI SRL
JOZWIAK POZNAN
JUAN BOLUDA S.A.
JUNIOR SRL
LANIFICIO BECAGLI
LANIFICIO FALIERO SARTI
LANIFICIO LAMBERTO
LANIFICIO LUIGI ZANIERI
LANIFICIO ROMA SRL
LANIFICO BRUNETTO MORGANTI & C SPA
LEADFORD&LOGAN EMILIO E RENATO D'ANGELO SAS
LEDATEX
LEMAR
LINEAESSE GROUP
MAGLIFICIO ALTO MILANESE SRL
MANIFATTURA FODERAMI CIMMINO SRL
MANIFATTURA PEZZETTI SRL
MODELMALHAS
MONTORFANO
NOVA LANERIA SA
NUOVA TESSILBRENTA DIV. OF MARZOTTO LAB
O'JERSEY SRL
PASTORELLI - TESSITURA MARCO PASTORELLI
PENTAGONO SETA SPA
PIAVE MAITEX SRL
PICCHI SPA
PONGEES LTD
PONTETORTO SPA
RAPHAEL
RATTI A SUSTAINABLE COMPANY
RDD TEXTILES
REDAELLI VELLUTI / NIEDIECK - DIVISION OF MARZOTTO
RICAMIFICIO CARLO CANZIANI
SCHOELLER TEXTIL AG
STOFFALL S.R.L.
T.F.T. SPA TINTORIA FINISSAGGIO TULLI
TESEO TESSITURA SERICA DI OLMEDA
TESSILIDEA
TESSILMAGLIA SRL
TESSITURA CORTI SRL
TESSITURA DI CREVACUORE
TESSITURA MAURI SPA
TESSITURA PRINA - GALLARATE
TESSITURA SERICA MOLINELLI SRL
TESSUTI & TESSUTI
TESSUTI DI SONDRIO DIV. OF MARZOTTO LAB
THERMORE SPA
TITANUS SRL
VELCOREX SINCE 1828
VUEFFE STUDIO
WEFT

Access now www.e-milanounica.it
Do you need help for login? Read our guide.
To ask for your access credentials as a buyer, register here
For information: digital@milanounica.it